I dare not praise this exciting episode's success without bowing down to the women played in it.
By Rachael Edwards
[Warning: spoilers ahead]
A girl is still recovering from last night's Season 7  
premiere of "Game of Thrones". My voice is hoarse from screaming every other scene, and my edges have fallen off from how flawlessly this show can juggle fifteen thousand storylines.
Historically, GoT's represented women as strong, but still disposable. With heavy criticism from fans who watched women characters being sexually and physically abused, the show seems to be taking a 360 degree turn, redeeming these characters with esteem and in-depth storylines.
I dare not praise this exciting episode's success without bowing down to the women played in it.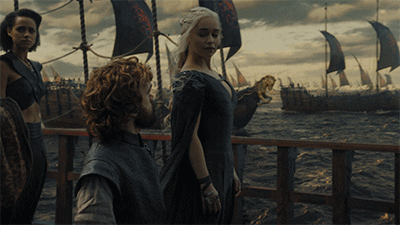 1.
Arya Stark:
The opening scene is Lord Walder Frey giving a toast to the men that aided him during the Red Wedding. The men raise their glasses and take a drink. Lord Frey, visibly, does not. He talks to them about how they killed all the Starks, save one. All of a sudden we see the men who took a drink begin to choke and grumpy ass Frey peels his face off  and well damn, it's fucking Arya.
Fuck her damn hitlist - Arya is not just going out for key players, this girl time to take out their supporters.
Was I the only one who cackled when she met up with (peasant) Sheeran and crew and she told them she was going to kill Cersei?  They thought she was kidding. I'm dying to see what more damage she is going to do to her enemies.
2.
Sansa Stark:
Sansa, you're doing amazing sweetie. I almost threw my drink when she talked all over her brother, Jon Snow, when they were trying to sort out what to do with the Houses who betrayed (deceased) Robb Stark, the war in the  South, and the arrival of winter. I'm just going to get it out of the way and say that women should talk over men like they talk over us all the damn time. Brava, sis.
She even shut down Littlefinger when he tried to whisper bitternothings into her ear about her right to be Queen of the North. I live!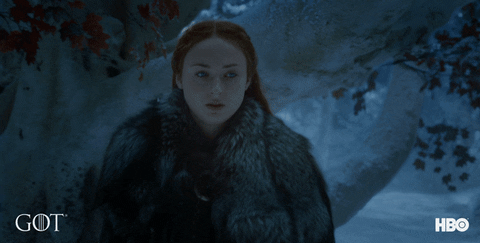 3.
Lyanna Mormont:
I said this before and I'll say it again, Lyanna might just make me believe white women can do this feminism thing right. Instead of rallying behind a Scarlett Johanssen–white women need to cape and learn from House Mormont.
Lyanna was involved in what seemed to be a community forum with Jon Snow. When I tell you she got those older folks together! She's stern and no one questions her judgement. She is defying the conventional notions of age and sound judgement.  Lyanna will always have the final word, and who gon' check her?
4. Brienne of Tarth:
I always have to collect myself when Brienne walks into scene. Her character is bae-incarnate.
When she is not trying to help poor Podrick learn how to fight, she is right behind Sansa ready to snatch anyone who dares to harm her. This season, Brienne is in charge of protecting Sansa. Brienne came through with the, "Why is he [Littlefinger]  still here?" It reminds me of when your friend just broke up with her boyfriend, but he's still coming over to pick up the rest of his *things* and you have to check her asking him why he's still there. Brienne is that girl who is going to hold you accountable.
Given the racism found in speculative fiction as well as the lack of onscreen Black representation, the adaptation Nnedi Okorafor's "Who Fears Death" should be celebrated instead of overshadowed.
By Latonya Pennington
Nnedi Okorafor is one of the most successful Black speculative fiction writers in existence today. Last year, she won a Hugo award and a Nebula award for her sci-fi novella "Binti". Now, her post apocalyptic SFF book "Who Fears Death" is going to be adapted into an HBO television series. Yet, VICE magazine
decided to make this accomplishment
about author and executive producer, George R.R. Martin.
First, let me start off by saying George R.R. Martin is not to blame for this. VICE magazine probably thought no one would read the piece if they put the name of a lesser known Black female writer first. Therefore, they used Martin's fame in order to get clicks and views.
Not only is this disrespectful, but it is racist.
By putting Martin's name before Okorafor's and cropping Okorafor's name off her own book cover, VICE has made it seem like a black female writer needed help from a super famous white male author. In other words, Martin is positioned as a white savior to a Nigerian-American author.