"Twin Peaks" Is Overwhelmingly White, So Why do Fans of Color Keep Watching It?
What keeps other Peakies of color coming back again and again? How did other people of color navigate and negotiate the show's overwhelming whiteness?
It was the summer of 1998 when I was first introduced to David Lynch and Mark Frost's strange little town of Twin Peaks. I was already a huge Lynch fan, but Twin Peaks was a horse of a different color. It changed the landscape of pulp television and elevated it to art.
More importantly, it was the first time that family violence — and in particular childhood sexual abuse — was ever discussed openly on prime time TV in a white middle class context, removing it from the narrative that only the poor and racial minorities were the perpetrators of these kinds of crimes. It was groundbreaking work.
As the decades have gone by, Twin Peaks has managed to keep my attention, and with each viewing of the show and its prequel film, Fire Walk With Me my obsession with the town and Laura Palmer's story has only grown.
These were decades in which I expected nothing of diversity in television. In fact, I never imagined I'd ever see people like South Asian American me on any screen save to play terrorists or pass as hispanic. After seven immersive viewings over two decades, it's only been recently I even noticed the overwhelming whiteness of the show. Twin Peaks has a singular archetypal quality that transcends surface qualities like race.
When the news broke that Lynch and Frost were teaming up again to bring the story back to life in a third season, the announcement felt like a gift from the gods. But then I got nervous. The call for diversity in television goes beyond having characters of color, it affirms our desire for three-dimensional representation as opposed to mere racial or ethnic tokenism. How would Twin Peaks fit into this new TV paradigm?
All these years, I knew there must have been other Twin Peaks fans of color, but I'd never met any until the lead-up to season three. What keeps other Peakies of color coming back again and again? How did other people of color navigate and negotiate the show's overwhelming whiteness? And what were their hopes for the new season, especially given the show now includes naturally diverse locations like Las Vegas and New York?
Indian American writer Swati Khurana watched the show live when it first aired and tells me:
"What keeps me coming back is the artistry and the story. Before Twin Peaks, as an immigrant living in a suburb, I had primarily consumed popular culture. I didn't have much access to contemporary art, film, or performance. Twin Peaks was a gateway for me, from there, I discovered where the tiny theaters that screened indie movies were, and began taking trips to NYC so that I could see more art. It also helped me find other artsy weirdos that "got me."
In terms of the story, I think most teenagers can live a double life, maybe even a triple life. Laura Palmer really impacted me, in ways that I am still figuring out. As a budding feminist, when I encountered the show at 15, I was grappling with how does an artist deal with violence against women as a subject matter."
About the lack of diversity in Twin Peaks, Swati explains:
"Would I have been so attached to the show had it premiered now? I don't know. When I was a teenager, I never called myself American, which revealed how foreign and strange I felt. Like a perpetual guest in a country [that] was ambivalent toward me, sometimes even hostile. So the whiteness of Twin Peaks — punctuated by the happy and calm Native sidekick of Hawk and the young "Dragon Lady" widow character of Josie — only mirrored the unbearable whiteness and racial hostility of my actual life, and I couldn't even imagine that television could have characters that looked like me, and reflect my experiences. So at the time it didn't bother me. I honestly expected so little from television. My standards for diversity and rich characters of color on television were so low."
Molly Farrell-Savage is Chinese American and has been a fan since her early teens. Here's why the lack of diversity in Twin Peaks doesn't trouble her:
"It makes sense to me. I'm from a small town that's kind of old fashioned (no cellular towers, no chain stores…) so I found it to be very realistic. I don't think it would have resonated as deeply with me if it were more diverse. I love to see diversity, especially racial, in the media but I feel like the lack of diversity was intentional in Twin Peaks and was necessary to portray a certain environment/atmosphere."
Chadai C. is half Lebanese and half Australian of Welsh descent. She isn't so bothered by the lack of diversity as she is by the presentation of the few characters of color:
"Josie, for instance, I wish had been better written; because I felt for her plight, but so much of what she did and said made it hard to for me to empathize with her. I also wish that Hawk had a little more to do in the original series (the whole "Tommy Hawk" thing leaves a bad taste in my mouth). Though seeing him in a more significant role in season 3 does make me more hopeful."
Nastassia Artelejo is second generation Mexican American and is also a recent transplant to the Twin Peaks:
"Watching [Lynch's] films (and Twin Peaks, especially) feel like a surrealist painting come to life. It's horrifying and absurd, yet familiar. It never fails to creep me out, even after so many viewings. I deeply relate to Laura Palmer.
The noticeable lack of POC was bothersome, but there's the typical argument about more white people living in the Pacific Northwest than POCs. What I dislike most is that, of the few characters that aren't white, they are a cliché and it's borderline offensive. I'm happy to see more diversity on the new season and I hope the pattern continues in the next 11 episodes."
As for expectations of more diversity in the new hours, everyone I spoke with agreed: We all want more.
Swati Khurana says:
"I would hope there is diversity, but I would rather not have caricature characters. … I was excited to see a dark-skinned black woman, but then when I realized she was playing the part of a prostitute, I was upset. I hope the other episodes are better. People of color can be weird and quirky and wacky too. We can do strange dances in front of jukeboxes, write in diaries, talk to logs, drink black coffee. We don't have to only be dragon ladies, prostitutes, and spiritual sidekicks."
About her wishes for the new season Nastassia Artelejo tells me:
"It's great to see diversity on the show, but a lot of the characters are still mostly white. It's frustrating because the world has grown and changed so much in 26 years. The town itself seems to be more diverse but the characters' whiteness remains the same. After seeing the cast list, I definitely have hopes that things will be different."
Chadai's hopes for the new hours include:
"I would really love to see a more POC in the show, in roles that are more central to the plot. …I only hope that the writing is respectful, as well as essential to Lynch's vision. …So long as the show manages to avoid being directly disrespectful, racist or misogynistic, I feel it will be at least a step in the right direction. We shouldn't be satisfied with only the bare minimum, and always continue to think critically about the media we consume and create."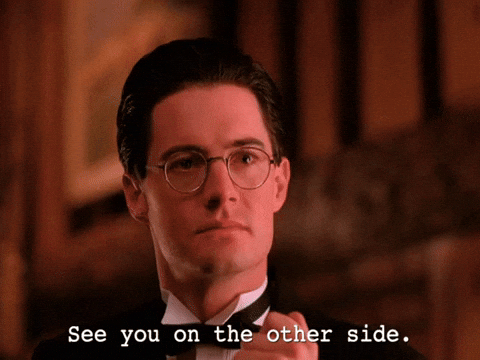 [adsense1]
Every single dollar matters to us—especially now when media is under constant threat. Your support is essential and your generosity is why Wear Your Voice keeps going! You are a part of the resistance that is needed—uplifting Black and brown feminists through your pledges is the direct community support that allows us to make more space for marginalized voices. For as little as $1 every month you can be a part of this journey with us. This platform is our way of making necessary and positive change, and together we can keep growing.
Join Wear Your Voice on Patreon